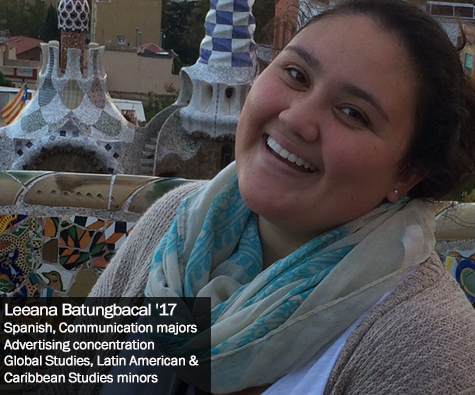 Leeana Batungbacal
Leeana Batungbacal is a senior from Maui, Hawaii. She is a double major in Spanish and Communications with a concentration in Advertising and a double minor in Global Studies and Latin American & Caribbean Studies. She is the Vice President of the Marist chapter of the American Advertising Federation, a member of the Kappa Lambda Psi sorority, and she also studied abroad in Madrid, Spain.
What made you decide to come to Marist?
I heard about Marist because my friend from high school came here for the fashion design program. I decided to give it a shot and look it up. Marist had the exact academic programs I was looking for and also had amazing opportunities for studying abroad. I threw caution to the wind, applied, and decided to go across the country to attend a school I'd never even seen before! As soon as I stepped on campus, I knew I made the right choice.
What is your favorite part about the school?
My favorite part about Marist is the people. Never have I met so many incredible people in one place. From the students to the teachers and the staff, all of them have had a positive impact on my life. In my sorority alone, I've met so many empowered and passionate young women who are really seeking to make a change in this world. This same drive is also found in the teachers who go to great lengths to see their students succeed. The people here are the heart and soul of Marist.
What is one piece of advice you would give to an incoming freshman?
Take a chance. Sign up for that scuba class you've always wanted to take. Join Greek life. Change your major. Apply for that internship. Make life-long relationships. Live in a foreign country. Jump in the river! Even if something terrifies you to the ends of the earth, you never know what will happen unless you take a chance.

Written by Adriana Belmonte '17
---
Profile Tags:
Profile Type: Alumni
Major: Spanish
Academic School: Communication and the Arts
Campus: New York