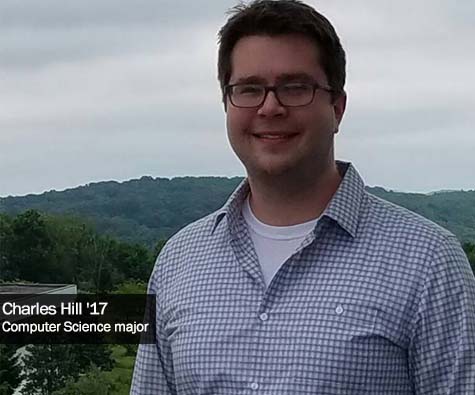 Charles Hill
Charles Hill is a senior Computer Science major from Uxbridge, Massachusetts.

What made you decide to come to Marist for college?
I originally found out about Marist because of the Computer Science program. The tour of the school is what sold me. The gorgeous campus and atmosphere that the school has was what I wanted for my college experience.
What has been the best part of your college experience?
There have been numerous amazing experiences during college. Besides the life-long friends I have made, it has probably been the research work I have done with the professors. Being able to research in my field and present work alongside professors was incredibly fun and satisfying. We were able to travel to conventions and conferences in other countries together and share unforgettable experiences. It has enabled me to travel to the Dominican Republic, Spain, Germany, and Belgium.
Do you have any advice for future freshmen?
I know it's cliche but networking is invaluable. Not only socialize and make friends with your fellow students but also your professors. Befriending my professors enabled me to do these awesome research projects. My professors also helped me find both an internship and a job for after graduation. I would also recommend being a "yes man". There are so many opportunities in college to make friends, learn something new, and have fun. Whenever I found myself debating on whether or not I should say hello to someone, or go to an event, I just decided to do it. Most of the times that I told myself to say "yes" ended up with a positive outcome.
How did college prepare you for life after graduation?
College has prepared me in so many ways for life after graduation. I have learned how to live with housemates and roommates. I learned how to be independent. I also found a job, with IBM, and soon I will begin my professional career.
Written by Sophia Brana '17
---
Profile Tags:
Profile Type: Alumni
Major: Computer Science
Academic School: Computer Science and Math
Campus: New York